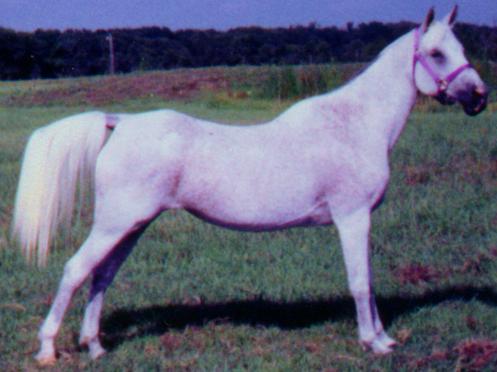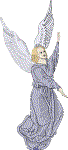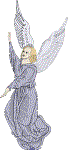 I am a 24 year old Persian Arabian Mare. Look good for my age huh....LOL.
Kind of a long story how I became a member of this family, but it all ended up for the good.
Mom has a girlfriend that lives in Colorado, but at the time she and Mom lived in Indiana. her name is Sandy, and she had another friend of hers that had me and my Mother. So I started out by living at Sandy's place. Then Sandy's brother Jack wanted me for his own, so then I and my Mother were moved to kentucky, we were there for about a year. I was about 8 years old at the time. Then Sandy came to get us and brought us back to Indiana, and on her way she dropped me off at my new Mom's place and she took my Mother home with her. First time I was seperated from her too, and that was hard on me for awhile. I was 9 years old then. Took some time to get use to it, but I did. Mom took me to alot of Shows, something new to me, but I did very well for her. We sure have done alot of different things in this lifetime, but have enjoyed them all. Then Mom she moved us all to Texas and that was a long hard trip for her and all of us too. Truck broke down in Memphis Tenn. The men at the station did all they could to make it comfortable for us while we waited for help to arive. We made it to Texas. As ya know from being up North all those years, the first year was kinda hard on us all, the heat and all sure was different here. We enjoy it now though. Then Mom she moved her Dad down here to take care of things while she went on the road, so they could buy a house of their own. in August of 1998, she had given me to him, so he could have a horse to ride too. I don't mind cause I know we are all still together here as one Happy Family
.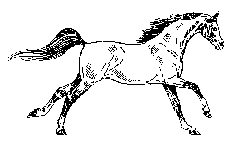 Just thought would let ya all know that Sabiann has passed away as of January 17, 2007.
She was 28 years old when she passed, she had lived a good life and that is how we should remember her, she had taught alot of kids and even older adults how to ride and loved to be the grandmother to all the colts that were born at our place. She will be deeply missed for I have had her for over 20 years of her life.