IN MEMORY OF MY LOVING HUSBAND
James Lee Thompson
(AKA Bubba)
12/23/1940 - 9/11/2003

Jim was a Loveing, careing man. There wasn't nothing he wouldn't do if he could for someone else. He Loved to go Fishing and sometimes we would go together. He Loved it when we would take the Horses Camping and of course he would bring his fishing poles along too. He also Love Riding the horses. I had given him SSamson for a Father's Day Present in 1997. He Loved that Horse, but he would let me use him for my Barrel Racing. Jim was really Happy when SSamson took First Place in the Barrels after his second year of training. Jim and I have known each other since 1976 but as life has it we weren't married till Nov. 30, 1996. Was one of the Happiest days in our lives. That is me there with Jim on Mother's Day 1997. I am riding on my Stallion Shetan. Jim and I Loved to go bowling as well. We also use to Drive Truck over the road together. We drove untill our accident we had in the truck June 19, 2001. Ever since then we have worked at home, he worked on trucking while I worked with the horses and grooming dogs at home here, in which he would help me out with them to when he was feeling up to it.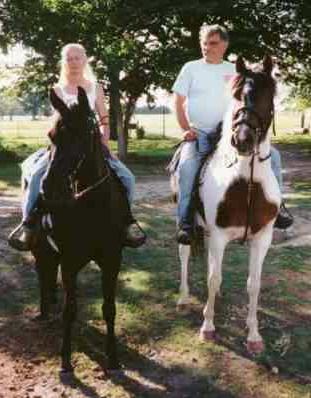 July 4, 2003 Parade
Jim's Last Ride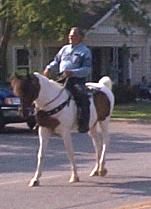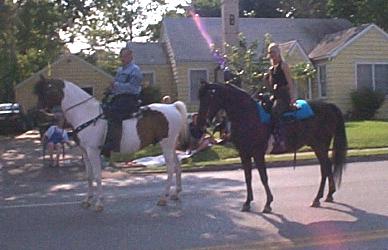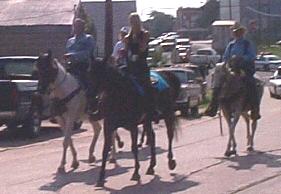 We Did A Memorial Ride For Jim
July 4, 2004 Parade
These were the only pictures I could find right now of us getting ready for the 4th of July Parade.
If I can find someone who may have some better ones I'll put them up here too. I Had Saddled up Jim's Horse and my Dad and I ponied him in the Parade in Honor of Jim's Last Ride he had on SSamson.
He may not of been there in Body, but I know he was there in Spirit.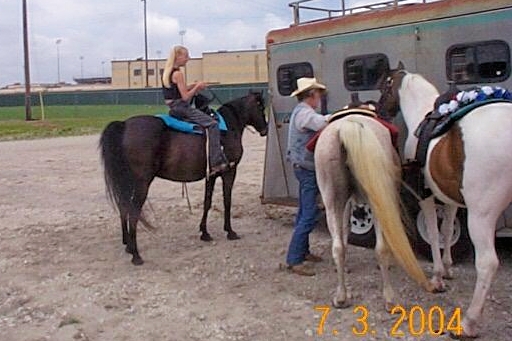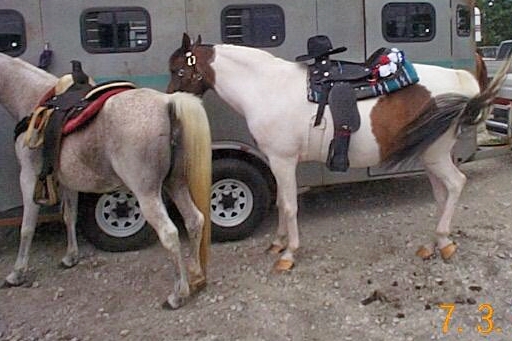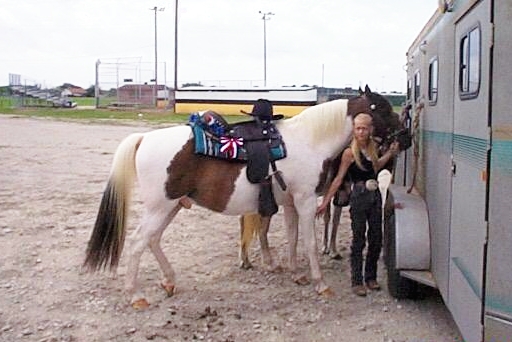 Here are a few Poems that I had Written for Jim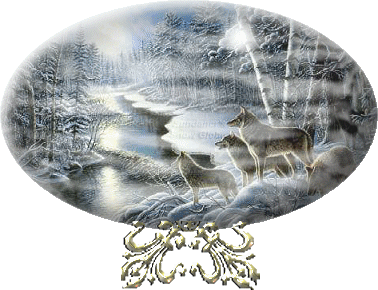 This was the Last Ride Jim did Before he Passed Away.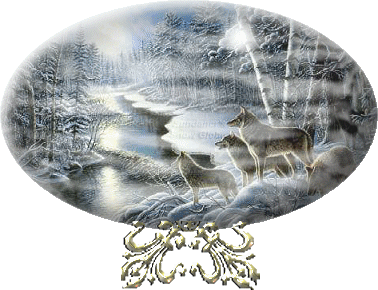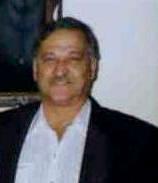 This was a Memorial Display I had set up for Jim.